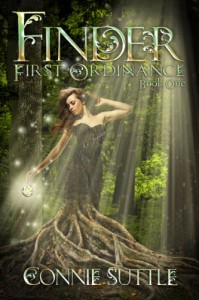 A new Connie Suttle series. Yes, please!!

What I liked: Again, I say, what an imagination!! I would like to live in Ms Suttle's head for a day. Heck, make that a week. The ideas she puts on paper are a treat for me.

While this is the opening in a new series, it appears to tie into her previous series. A character or two are referred to in a few paragraphs as are the different species. Having said that, I can tell you in reading Finder, I didn't feel like I needed to have read any previous books in the other series.

Finder is an orphan of unknown background but with some pretty extraordinary "gifts". She's similar to other heroines in Ms Suttle's series. She's used and abused but her strength and perseverance keep her going. She never gives up and is constantly helping others.

Ms Suttle not only writes some of my favorite heroines but she conjures the worst of the worst in villains. She writes men and women you love to hate.

The world building in Finder is fantastic. I can actually picture the scenes in my mind as they unfold. All these different worlds side by side and interacting is so intriguing. I can't wait to find out more!!


And the last thing but what I really loved was the cover of Finder. It's gorgeous and very eye catching!


What I didn't like: I usually have a hard time keeping track of Ms Suttle's characters but for some reason didn't have a major problem with it in Finder. I'm sure she'll add more characters in future installments and I'll be referring to my cheat sheet but I'll gladly "suffer" through just to get the chance to read her stories.

The prices for Finder (First Ordinance #1) are as follows: Amazon Kindle edition and Barnes & Noble Nook book are both a great investment at $4.99.

Highly Recommend!!